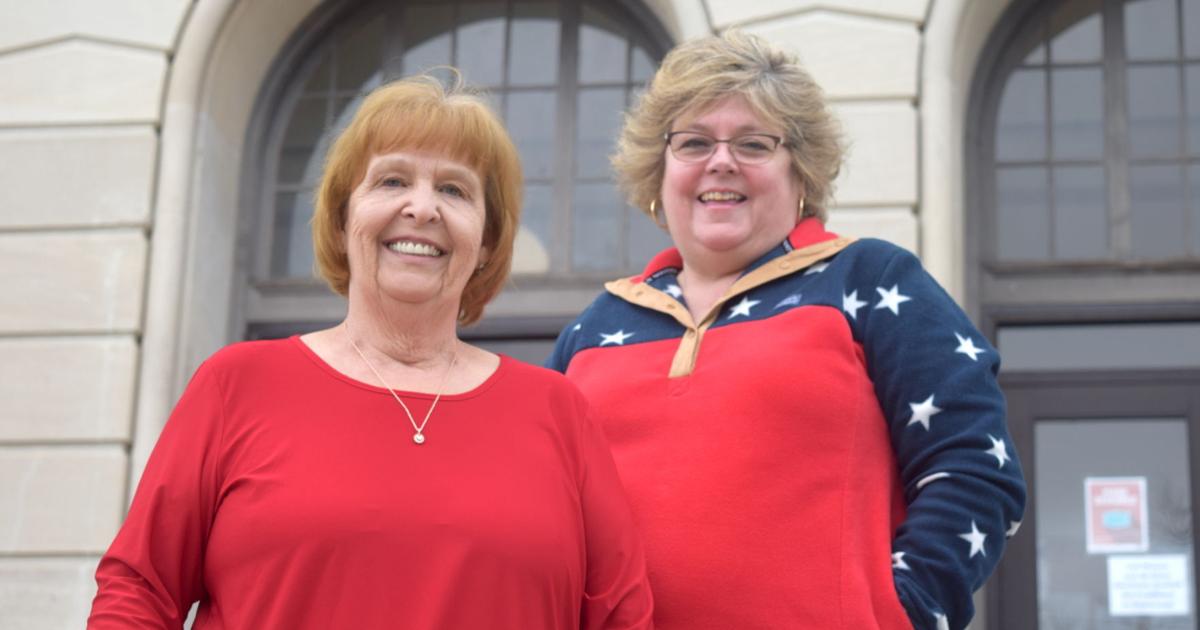 An unlikely friendship: Presidents of political parties find family ties in dark times | Local news
The best of friendships can often be formed under the rarest of circumstances.
However, kinship is not that often found by going across the political aisle, especially not in these very busy and divided days.
But that's exactly what happened last year between the two presidents of the county's political parties.
"We were on the same side, with the same goal," said Linda Painter, Chair of the Knox County Republican Party, of her erstwhile counterpart, Sandi Stewart.
"Sometimes you have to take the 'me' out of it," said Stewart, the former Democratic Party chairman. "Because it wasn't about me. And it wasn't about her either.
"We just had to get things done."
The two women grew up on both sides of the political spectrum. Painter is a longtime active Republican, becoming a member of the precinct 12 years ago. Then, in January 2014, she was chosen to lead the party at the local level.
She is also entering her second term as Republican Party Treasurer for the 8th Congressional District.
"I've always loved politics, I've always followed it," Painter said with a shrug. "And the Republican Party represents values ​​that I have embraced. So, in the end, I took it up a notch. "
Likewise, Stewart hardly remembers a life without politics. Growing up among active local Democrats, she joined the party when she was just 16, door-to-door for local candidates.
Her love of politics eventually took her to the Statehouse where she worked in the House of Representatives secretarial pool and, later, as a liaison for John Gregg, the House's longest-serving Democratic speaker.
She worked in Indianapolis for 15 years before returning to her hometown of Vincennes where she continued public service, working for institutions such as the Knox County Chamber of Commerce, the County Auditor's Office and even as regional assistant to former US Congressman Evan Bayh.
She was also involved in the local Democratic Party and resigned this month after being its leader for 12 years.
The two women, in their respective political roles, have met often over the past few years, but it wasn't until COVID-19 swept the country – casting doubt on their ability to hold a major presidential election or not – that they suddenly found each other. themselves on the same side.
Their priority has shifted from advancing their parties to ensuring that Knox County can hold safe and fair elections.
"Getting together has become a weekly thing," said Stewart. "We had to figure out, working with (County Clerk) David Shelto, how to get things done.
Faced with a lack of volunteers and suitable polling stations due to concerns over COVID-19, the couple found themselves tackling problem after problem after problem – together.
"People were canceling, polling stations were canceling and it was almost impossible to find replacements," Painter said.
"Suddenly we couldn't do all the things we used to do," added Stewart. "We couldn't go into nursing homes with the traveling electoral committee. We had to constantly reflect to find solutions.
"And just as we were solving one problem, another would arise. We had to reinvent the whole system.
But understand it, they did.
With leadership from the county clerk and the Knox County Electoral Board, the two women worked hand-in-hand to organize a busy presidential election at the height of a global pandemic.
They also helped implement changes that are likely to last as local officials seek to make the voting process easier and more efficient.
They put their differences aside, the two women said, because, at least for a while, they didn't matter as much. Their sole purpose was to provide a safe and easy way for people to vote.
"No one could have figured this out on their own," said Stewart. "It took us all. "
And along the way, they also found what neither of them necessarily expected: a friendship.
Although Stewart has stepped down from his role in the Democratic Party, the two can still be found together, sitting side by side, during any public conversation related to the local election.
"Linda and I are having a great chat," said Stewart with a smile. "That's it, we can discuss with someone who is not from the same political party. You just have to agree to disagree on certain things.
Painter also said that the catalyst that made them quickly become friends was that they suddenly had a common goal.
And everyone has something in common.
"We cared more about the county and this election than ourselves or our parties," Painter said. "Our obligation was to the voters.
The trick, Painter said, is learning which conversation topics are off limits – and sticking to them. Growing up as a single Republican in a family full of Democrats, she learned this lesson early on, she said.
And it's the one she thinks more people should embrace, especially given the volatile political environment we find ourselves in these days.
"The question of politics does not need to be raised," she said in a neutral tone. "My brother, or for example, we have things we can do together. We take care of the family together. We will always be brothers and sisters. There is no need to fight over politics, and if it happens, I stop it.
"People can be friends, family without politics getting in between them," she said.
Painter and Stewart agree that when it comes to friendship and politics, there are certain limits that must be respected. Both pay attention to each other's feelings and know when to draw a line in the sand and walk away.
The division between the two political parties at the national level would make "our founding fathers turn in their graves", they say.
And they hope their unlikely friendship serves as an inspiration to others.
"We are all Americans," said Stewart. "And we should try harder to work together. Society changes us, and it's hard. Our ideologies may be different, but we have to find what we have in common and make it work.
"We have to accept not to agree. Because this far right and far left stuff is going to tear us all apart. "