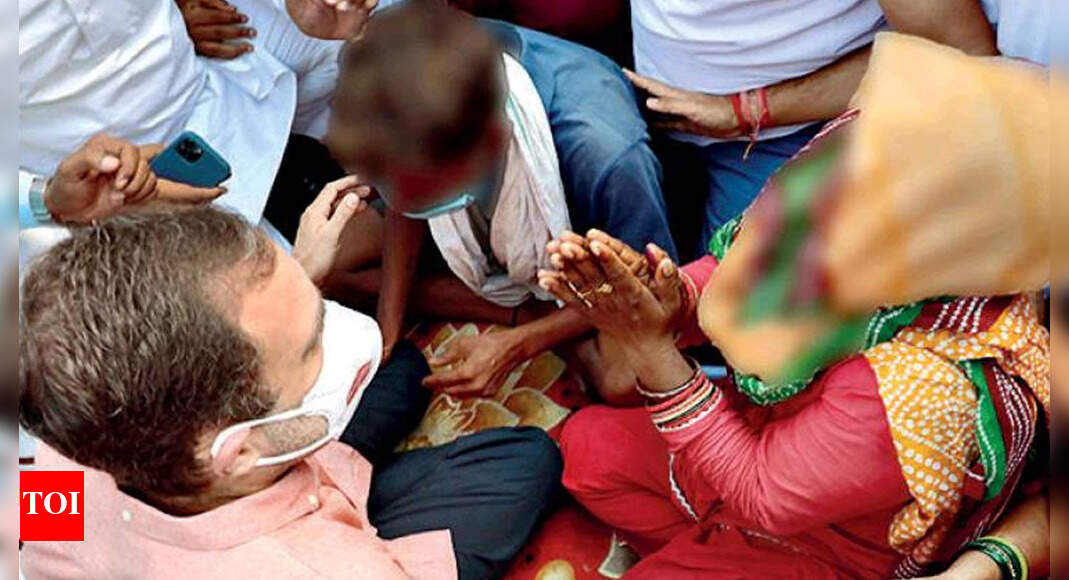 Death of 9-year-old child becomes major political issue in Delhi | Delhi News
NEW DELHI: Three days after a nine-year-old Dalit girl was allegedly raped, murdered and cremated without her family's consent in the Delhi cantonment area, politicians from various parties, including CM Arvind Kejriwal, Congress leader Rahul Gandhi and BJP Delhi chief Adesh Gupta all met with the grieving family on Wednesday.
While expressing their condolences, they also blamed their political rivals for the poor public order situation in the city.
Kejriwal announced financial support of Rs 10 lakh for the family and said he would order a judicial inquiry into the case. The AAP government will appoint two lawyers to ensure strict punishment of the culprits, the CM said after meeting with the family. Social Protection Minister Rajendra Pal Gautam, Delhi Women's Commission Chairperson Swati Maliwal and AAP MPs accompanied Kejriwal.
Injustice with the family is painful, according to CM
A nine-year-old girl unfortunately suffered a heinous crime and was subsequently murdered. I met his grieving parents. The injustice that has happened with the family is very painful, "said CM Arvind Kejriwal.
Referring to the bad law and order situation in Delhi, Kejriwal said, "There is a need to fix the law and order system in Delhi. I appeal to the central government to take concrete steps in this regard and the Delhi government will fully cooperate with the Center to restore law and order in the city. Delhi is the national capital. If such incidents take place in the city, it does not send a good message to the city. It makes people feel insecure and sends the message internationally that India's national capital is witnessing such heinous incidents. "
Rahul Gandhi also drove to Nangal where he spent time with the victim's family. Gandhi attacked the Center for Growing Crime in Delhi and demanded a speedy trial and a death sentence for the defendants.
Congress will hold candle light marches to all corners of Delhi to seek justice for the victim, Gandhi said. "I told them that Rahul Gandhi stood by their side until they got justice and he would not back down an inch," said Gandhi, who was accompanied by KC Venugopal, Ajay Maken, Shaktisinh Gohil and the head of the DPCC Anil Chaudhary.
He then tagged a photo with the victim's parents and tweeted: "Parents' tears only say one thing: their daughter, the native daughter, deserves justice. And I am with them on this path of justice. Earlier, Gandhi had tweeted: "The daughter of a Dalit is also the daughter of the country.
Delhi BJP chief Adesh Gupta also visited the victim's family and said justice would be served. Gupta demanded that a police investigation be completed within 15 days and that the case be referred to an expedited court.
BJP spokesman Sambit Patra said Gandhi was using Dalits and the poor to promote his own political agenda, even though he ignored cases of rape and murder in congressional-ruled states like Rajasthan, Punjab, Chhattisgarh and Maharashtra.
A delegation of TMC deputies and Brinda Karat, a member of the CPI (M) political bureau, also visited the family. Seeking intervention from Union Home Minister Amit Shah, Karat said, "My request is that you please make sure that justice is served … I also ask you to take immediate action against the staff. police involved. The message of justice for the child must be heard loud and clear.
(The victim's identity has not been disclosed to protect her privacy in accordance with the Supreme Court's guidelines on sexual assault cases)
To concern
Explanation: case of a Dalit minor who was allegedly raped, killed and cremated