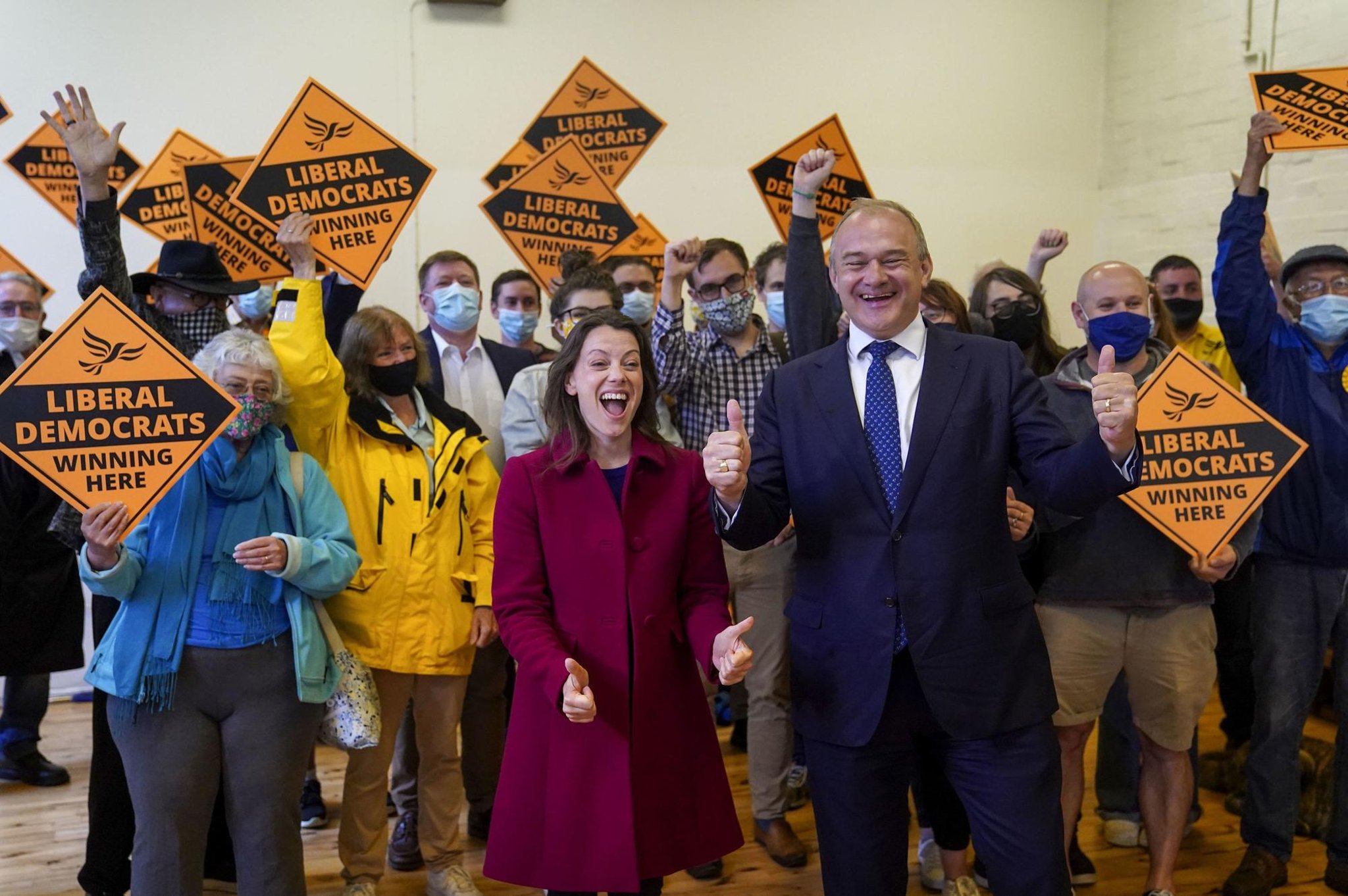 Housing crisis means urban planning policy is becoming a major political issue – Murdo Fraser MSP
Liberal Democrat Leader Ed Davey and party's new MP for Chesham and Amersham Sarah Green celebrate after a surprise byelection victory over the Tories (Photo: Steve Parsons / PA Wire)
In this leafy part of Buckinghamshire in the London suburbs, local residents worried about the prospect of additional housing being built leading to congestion and overcrowding issues.
When it comes to housing, the government faces the classic dilemma. It goes without saying that as a country we need to build more houses.
We have a growing population, and households are, on average, getting smaller and smaller, with more people living alone and families separating, which equates to cumulative and rapidly growing demand for more places to go. to live. The problem is particularly acute in areas of the country offering the best economic opportunities, such as London and the south-east of England.
Conversely, for people living in these areas, there is strong opposition to building more houses. Those who have invested heavily to secure a property in a corner of our "green and pleasant land" do not want to see fields and woods disappear under even more concrete and tar, seemingly oblivious to the irony than the houses in which they themselves live occupy land that was once used for grazing or growing crops.
The overall effect of this tension is evident in the overheated real estate market that we have in many parts of the country, where excess demand over supply is driving prices higher and higher.
Read more
Read more
Scotland faces a 'significant' housing under-supply for older people
This is by no means a problem limited to southern England; in many parts of Scotland we are seeing house price increases this year, and in many parts of the country properties are sold within days or even hours after they are put on the market.
Rising house prices have been of great benefit to those of my generation and that of my parents, able to buy homes when they were relatively affordable, and now seeing significant amounts of accumulated equity. For the younger generation, they were a disaster.
Homeownership is now a distant dream for many; and the need for 10 percent deposits has meant the average age of first-time buyers is now in their mid-thirties. This is a classic example of intergenerational injustice.
The solution to all this should be simple: where demand exceeds supply, then supply must be increased. And that is essentially what the UK government has tried to do, to make planning for new real estate developments easier to obtain.
Yet it is these reforms that have met with backlash from those who might express concern about the inability of young people to afford housing, but ultimately have no interest in seeing the status quo upended. Given the political importance of the older generations, it is a courageous government that takes care of their special interests, as we have seen.
So what to do? How do you square the circle, to ensure that there is housing for all who need it, and yet local communities do not feel overwhelmed by the pressure of large-scale real estate developments? This is an acute and relevant issue facing residents of Edinburgh and the east of Scotland today, where demand for housing and soaring prices are as much of an issue as further south.
Allowing development on brownfields is certainly part of the solution, albeit a very modest one, but it would be naïve to claim that we can meet the demand for housing without green land being developed.
In Scotland, local authorities are responsible for planning, with an obligation to produce detailed local plans indicating how they will zone land for future development to meet housing demand.
To much of the public, these processes seem opaque, if not obscure. While consultation is lip service, only those most engaged in local communities tend to know how and when decisions are made. And there are examples of failure to follow local plans, either locally or on appeal to Scottish ministers, which calls into question the whole issue of local democracy and accountability.
The answer needs to be greater transparency and public engagement throughout the planning process, to avoid a situation where the public first sees a potential development when it becomes aware of it. in the local press, then flooded the local planning office with letters of objection. This means that planning departments will be better resourced and have more capacity to engage with local residents.
Being a planning officer has to be a thankless job. In my work as an MSP, I often see communications from voters referred to the local authority, with long lists of detailed questions about a particular planning request's compliance with relevant policies.
Anecdotally, I know of planning officers who refuse to answer the phones to members of the public because they simply cannot cope with the volume of work they have to do.
A better endowed planning system would not be the complete solution, but it would at least improve public confidence in the system. If that means a higher planning fee is set aside to employ more staff, then I'm sure many developers would see this as a price to pay, and it would certainly be welcomed by the public.
Ultimately, there will always be tensions in planning between the national need to build more homes and the understandable desire of each of us to protect what we have.
But if we are to have a country that is more just, and in which the younger generations have the opportunities that those of us who are older once enjoyed, then the current system must change.
Murdo Fraser is the Scottish Conservative MP for Mid-Scotland and Fife
A message from the editor:
Thank you for reading this article. We depend on your support more than ever, as the change in consumption habits caused by the coronavirus is having an impact on our advertisers.
If you haven't already, consider supporting our trusted and verified journalism by purchasing a digital subscription.