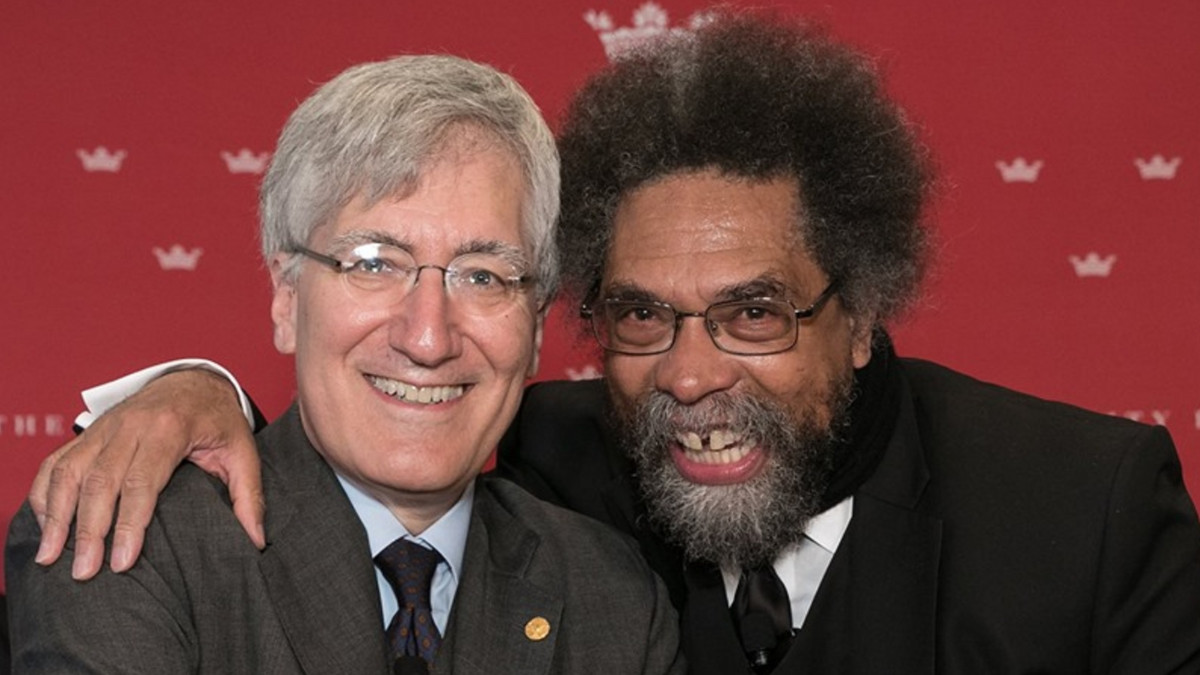 Leaders from opposite ends of the political spectrum to discuss meeting amid
Two prominent educators and intellectuals – Cornel West, an outspoken voice of progressive politics in the United States, and Robert P. George, who has been called America's "most influential conservative Christian thinker" – will travel to the University DePauw on Thursday, April 7 to discuss the country's partisan divide and offer ways to find common ground.
The Timothy and Sharon Ubben Lecture, "Embracing Civility: Finding Common Ground in Unusually Fractured Times," is scheduled for 7 p.m. at DePauw's Kresge Auditorium, located in the Green Center for the Performing Arts. The conference will be presented free of charge and is open to all. Seats will be allocated on a first-come, first-served basis and no tickets will be distributed.
In one survey released this month, the Georgetown University Institute of Politics and Public found that 43% of Americans think politics has become less civil over the past year and that voters continue to rank political divisiveness as one of the most important problems facing the country (21%), as well as the rising cost of living (23%) and employment and the economy (22%). The poll asked voters to rate on a scale of 0 to 100 the level of political division in America, with 100 being the highest level. The average score was 70.36.
West, a prominent intellectual and provocateur, holder of the Dietrich Bonhoeffer Professorship at Union Theological Seminary and professor emeritus at Princeton University. He has taught at Union Theological Seminary, Yale and Harvard universities, and the University of Paris. He graduated magna cum laude from Harvard in three years and earned his M.A. and Ph.D. in philosophy at Princeton. He has written 20 books and edited 13, including "Democracy Matters", "Race Matters" and "Black Prophetic Fire". West has made several previous visits to DePauw and was the university's keynote speaker in 1996. George is the McCormick Professor of Jurisprudence and director of the James Madison Program on American Ideals and Institutions at Princeton. He was a visiting professor at Harvard Law School, teaching philosophy of law and related subjects. He served as Chairman of the U.S. Commission on International Religious Freedom, served on the Presidential Council on Bioethics, was a presidential appointee to the U.S. Commission on Civil Rights, and was a U.S. member of the World Commission on Ethics in Science. and Technology of UNESCO. He is a former Justice member of the United States Supreme Court. His books include "Making Men Moral: Civil Liberties and Public Morality" and "Conscience and Its Enemies". A graduate of Swarthmore College, George holds an MA and law degree from Harvard and DPhil, BCL, DCL and DLitt degrees from Oxford University.
Together, West and George received the first Open Mind Award from the Heterodox Academy for their leadership in scholarship and the movement to advance diverse perspectives and reform American higher education.
Established in 1986 with support from 1958 DePauw graduates Timothy H. and Sharon Williams Ubben, the lecture series was designed to bring the world to Greencastle. He has presented 116 events in 36 years. Ubben's previous speakers have included Malala Yousafzai, Margaret Thatcher, Bill Clinton, Spike Lee, Mikhail Gorbachev, Jane Goodall, Tony Blair and Jimmy Kimmel.