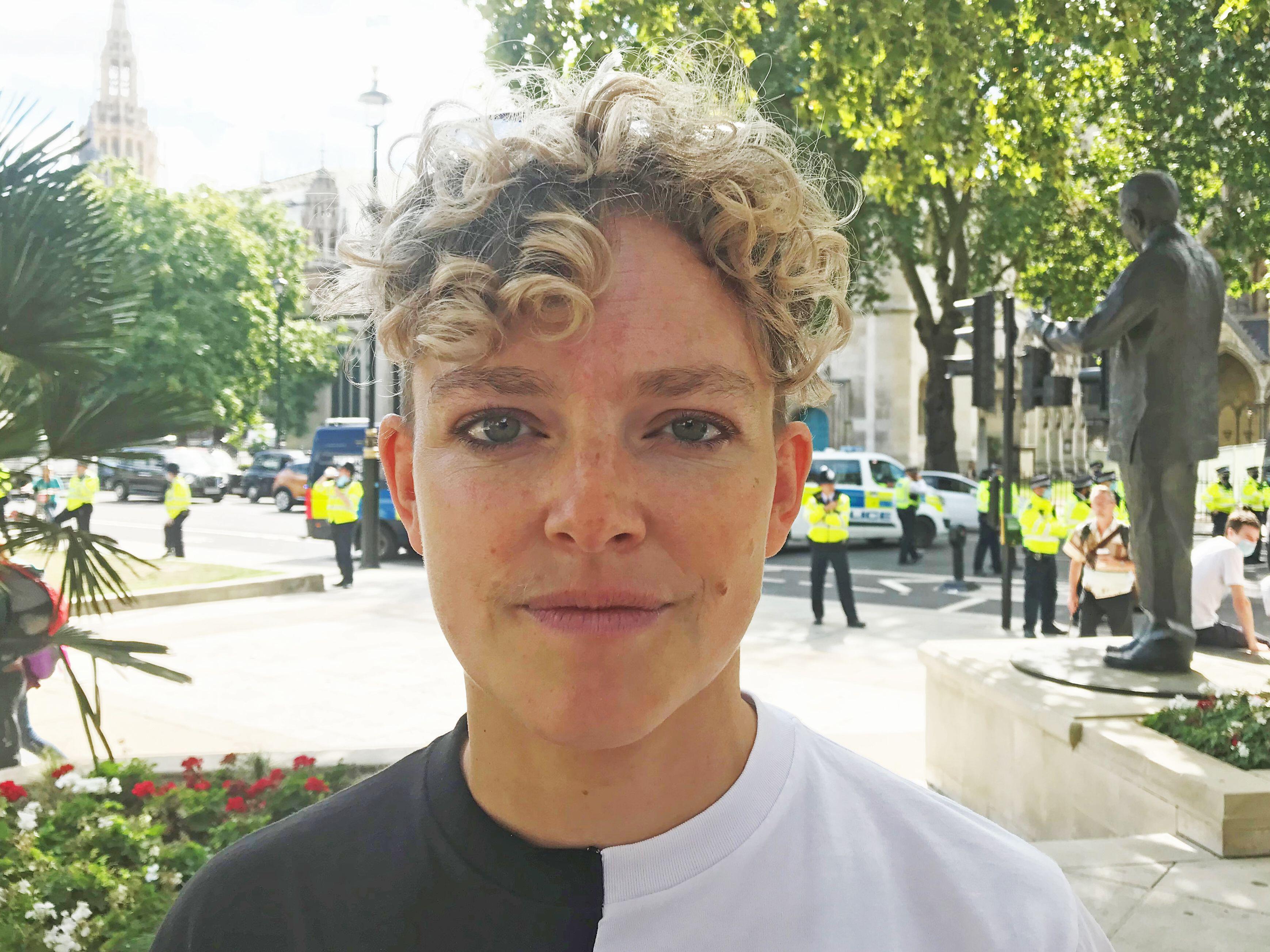 Meet the first trans person to run for a UK political party leader
Tamsin Omond at a protest against the Extinction Rebellion 2020 Photo: PA Images / Alamy Stock Photo
When Green Party co-leaders Jonathan Bartley and Sian Berry resigned in July, Berry citing internal party of the Transphobia Party as one of the reasons for his resignation, it sparked a battle for power in a burgeoning political party.
This week, members will elect a new leadership team. Among the candidates is Tamsin Omond, a 36-year-old environmental activist who is the first trans, non-binary person to run for the leadership of a major British political party.
Omond, who describes himself as "trans (non-binary)", stands on a co-management post alongside current Vice-President Amelia Womack. If the pair win, it would mark a historic first in British LGBTQ history at a time of growing hostility towards trans people.
Their candidacy for leadership follows a registration number trans, non-binary and genderqueer parliamentary candidates who ran in the 2019 general election. Owen Hurcum is the first openly non-binary mayor in the UK, leading Bangor City in Wales, but we have yet to see a non-binary MP win a seat in Parliament.
This leadership election comes at a time when the climate crisis has been dubbed a "code red for humanity". It is a decisive and overwhelming moment in the history, present and future of our civilization; something that both candidates say they don't take lightly.
While the focus has been on Omond's genderqueerness, they and Womack tell VICE about the many other crucial elements of their campaign and their visions for a just world.
VICE: Hello! So, what made you want to run for co-management?
Amélie Womack: Tamsin and I are the same age, and I think we represent a generation that was abandoned by politics and political systems: we are the generation that got our first jobs during austerity; we are also a generation that grew up learning about the climate and ecological emergency at school. And I know I naively thought someone was going to do something about it, because it's pretty scary, and no one has.
Tamsin Omond: Absoutely. And another reason I ran was because it didn't look like a trans person was going to run and in the context of this election so that there was no trans person standing, it was really… What's the word I'm looking for, Amelia?
Womack: It was really a happy coincidence to run together.
Omond: Yes exactly.
How do you see the importance of operating on such a trans-inclusive platform?
Omond: The way I see it, it's not a Green Party moment; it's a great social moment against the kind of transphobic repression that has occurred, because trans people are taking up more space than before; because we used to hide it, because we felt that there was no place for us and that it was not sure for us to exist even in our imagination, yet less there in the world. I only met my first non-binary person in my thirties… that's hogwash. We need representation because otherwise I can't see myself anywhere.
I'm obviously not trying to represent a specific 'genre', we all express our gender in different ways. But I'm not the type who was assigned to me at birth. It's something that I know very strongly, and I didn't know how to experience it. There was no choice for me when I was growing up to go through this. And now there are, and it's amazing. It's something that the performance does, it gives people the idea that it's not bad, that there is nothing wrong with me and how I feel.
Womack: I often think back to my school years and the kind of oppression we talked about sexuality. I go to school now and the young people are so much more confident to understand who they are, and it's really because of the generation of LGBT leaders who have opened the doors to that. I feel like we're seeing the same thing on trans rights now, and I really hope that will pave the way for the next generation not to have the same struggles that too many generations before them.
Do you think the Party is ready to switch from transphobia?
Omond: The Green Party that I know and have been a part of for ten years is young, progressive and enthusiastic about working for change, and they want anti-transphobic leadership. More than that, the country needs a Green Party that clearly displays its anti-transphobia, that stands alongside the marginalized and oppressed and that says, we will build a political machine capable of seizing power so as not to let person late in this period of massive vulnerability. The climate crisis is one of those vulnerabilities.
Racism, patriarchy, transphobia, anti-Semitism, ableism: all of these things are structures that ensure that we will all be excluded if we are not united.
How do you plan to bring intersectionality to your campaign?
Womack: We want to make sure that we are working to listen and promote diverse voices. For me, a big part of this job is breaking down the barriers that explain why people don't get into politics. So one of the things I have done in the past has been to set aside money during the general election for various candidates to run because there are so many barriers as to why they can't. not.
Omond: We also have a plan for a liberation panel so that every week we talk to party people who represent the communities. [that we don't]. We offer them our platforms and we want them to inform us of structures within the party that are blocking them so that we can use our leadership to defeat them.
Womack: Yes, and we are inspired by other Party members like Magid Magid, who is currently running for mayor of South Yorkshire, ensuring that his refugee story is heard, but also to prove the power of the Green Party and the power to vote green. And Cleo Lake, who was our Lord Mayor in Bristol, worked on the repairs and got the councils to declare motions on the repairs.
Omond: All of these people – and us – are examples of what happens when we empower the people of BIPOC, when we empower a trans person: there are solutions in our experience to the crisis we are facing. If we can learn from the experience of marginalized people, then we have a chance to truly transform our society.
Do you think the UK is ready for such radical leadership?
Omond: Yes! We're really on our way to something very exciting that shows how hungry there is for something to believe in. This is already happening in other places like New Zealand, Finland, Germany – leadership made by different values, with a younger, more intersectional understanding of politics. I think there is a whole demographic that is hungry for this to be the story going on here as well. And we are the answer to this story.