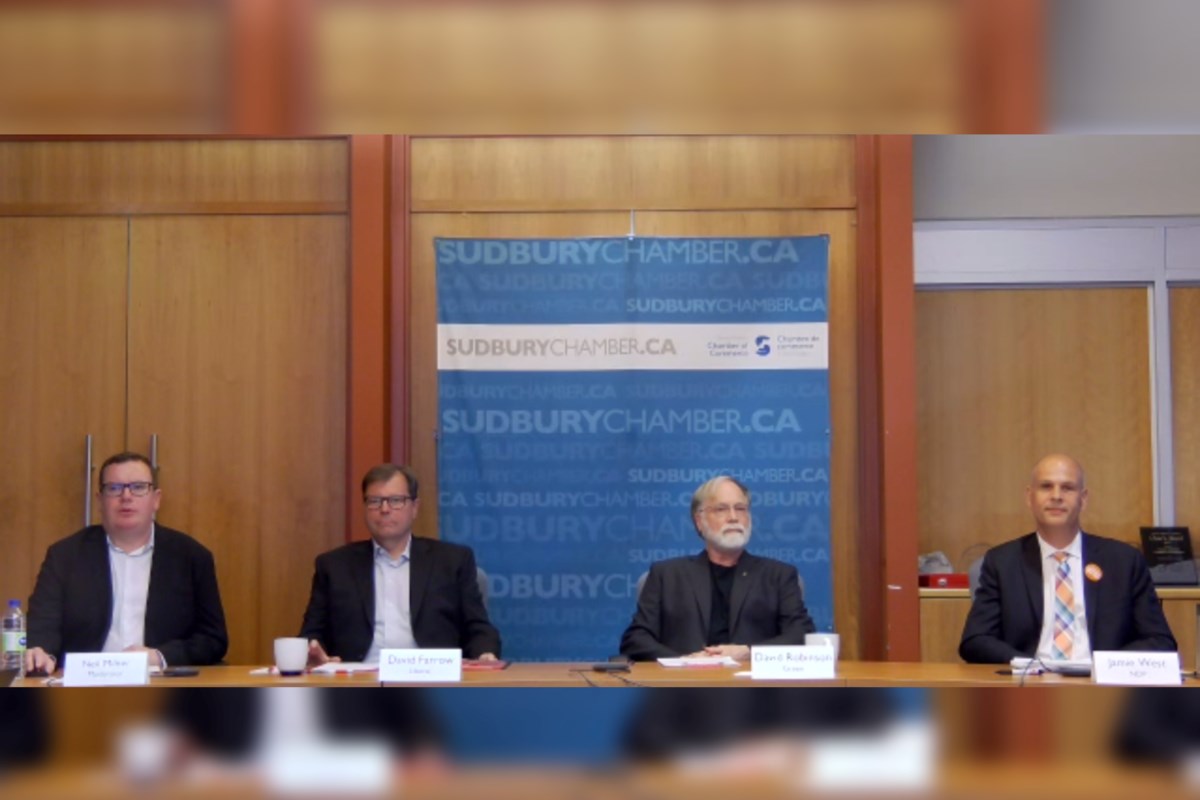 Sudbury candidates unite around need for political change
Tonight's virtual debate between Sudbury's provincial candidates was the first of two such events hosted by the Greater Sudbury Chamber of Commerce, with Thursday night's event featuring the Nickel Belt candidates
United behind the idea that the Progressive Conservative government must go, three Sudbury candidates in the June 2 provincial election had at least this point of agreement tonight.
David Robinson (Green), David Farrow (Liberal) and Jamie West (NDP) delivered several political jabs throughout tonight's two-hour debate, but the trio seemed more united in ushering in change than tearing each other apart.
"To me, this election is about one thing," Farrow said during his closing remarks. "This is an election about Doug Ford's (Progressive) Conservatives.
"Has Sudbury moved up or down in the last four years with Doug Ford?"
Between not making enough progress on the four-lane Highway 69, cutting millions from the Northern Ontario Heritage Fund and not preventing Laurentian University's current financial difficulties, he said that the current government had pushed Sudbury back.
Robinson and West also contributed to this accusation throughout the debate, with West focusing primarily on affordability and the government's mishandling of the pandemic, which has endangered "mom and pop" businesses. While agreeing with these notions and adding his own flair to the barbs he has leveled at the Ford government, Robinson has also delved into persistent regional shortcomings he perceives to attract working professionals.
The remarks of the three candidates remained undefended by the Progressive Conservative Party of Ontario, since the Sudbury candidate, Marc Despatie, was not present.
A similar atmosphere is expected at Thursday night's debate with the Nickel Belt candidates, which Progressive Conservative Randy Hazlett is also expected to miss.
"The PC candidates from the Sudbury and Nickel Belt ridings had accepted our invitation to the events earlier, but have now withdrawn their participation in the events," a spokesperson for the Greater Sudbury Chamber of Commerce told Sudbury.com .
A survey sent to both political camps by Sudbury.com did not receive an immediate response.
Throughout tonight's debate, Robinson, Farrow and the outgoing West tried to differentiate themselves beyond their united opposition to the Progressive Conservatives while addressing issues primarily aimed at establishing their respective plans for recovery and economic development.
Robinson touted a plan to retrofit hundreds of thousands of homes to use less fossil fuel, so people can live more affordably in the long term. It, he said, would also help create 130,000 jobs within a year and a half and even more people in the future.
The current bottlenecks in the local economy are not related to technology, but "to the fact that we don't have the people to do these jobs right now", he said.
Robinson is committed to establishing a system that better trains people for jobs in a green climate economy and to help make Greater Sudbury a more attractive place for people to move to find employment.
"We better get Laurentian back on track with lots of money for mining research and a new section working on mining procurement on the engineering side," he said. "This is a talent-based economy, and as a community we need to lobby hard and hammer Queen's Park to do something about it."
Farrow expressed a similar concern about the region's labor shortages, saying immigration must increase in order to attract the skilled and unskilled labor the region needs.
"The only way to get to where we need to be is to have a solid base to build on," he said. "The road to economic and environmental sustainability is through the mining industry. »
Farrow also advocated for a living wage to help people make ends meet and for immediate action to support businesses, including a two-year corporate tax freeze and the release of loans for companies.
With a larger pool of workers available to help the region realize its economic potential, he said a stronger tax base would develop to help support the region with the services it needs.
During his remarks, West focused primarily on what he described as an increasingly unaffordable province in which to live, where the Progressive Conservatives have failed to prepare the business community against the effects of the COVID-related health measures.
Many companies, he said, are "hanging by their nails looking for ways to survive."
The NDP would provide small businesses with two additional tranches of funding to keep them afloat "which will help stabilize the market and provide relief", and work to better recognize immigrant skills so there is no doctors who manage to make ends meet by working as taxi drivers.
"We need to attract people with decent wages, we need to raise the minimum wage in a responsible way that won't shock small businesses," he said, pledging $1 annual wage increases. hour at minimum wage.
Notable political jabs included Robinson claiming the other two candidates knew little about the economy, Western criticism of Farrow for the Liberals' failure to do more during their time in office, and Farrow accusing the NDP of being AWOL for the past few years and opposing various things but offering no solution. That last shot brought an exasperated gasp from West.
Despite this, Farrow also pledged to work with Robinson and West if elected.
"Leadership doesn't shout from the sidelines, leadership works with people across the aisle in Ontario to push policy forward," he said.
Thursday night's "Virtual Fireside Chat" with the Nickel Belt contestants will begin at 7 p.m., with information on how to tune into the virtual event available by clicking here.
Tyler Clarke covers city hall and political affairs for Sudbury.com.