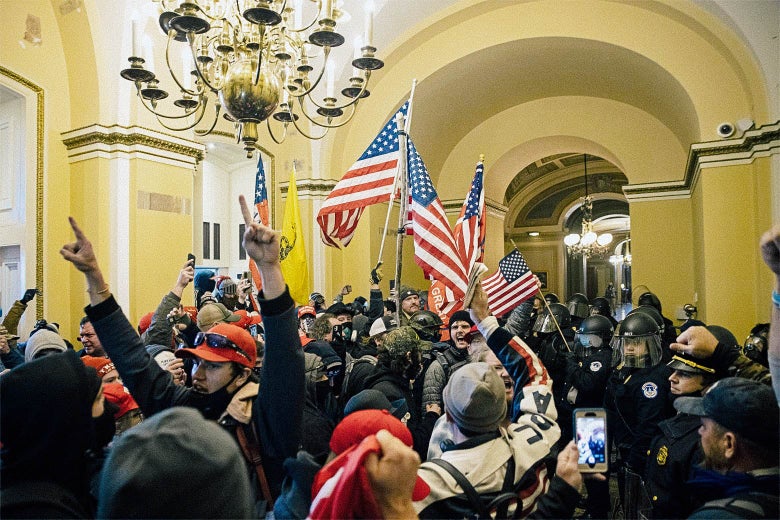 Wreaking havoc is easier than working for political change.
Supreme Court fails to enforce Voting Rights Act, January 6 GOP Membership and Protests in Canada.
Listen and subscribe
Choose your favorite player:
Please enable javascript to get your Slate Plus streams.
Get your Slate Plus podcast
If you are unable to access your feeds, please contact customer service.
Listen on your computer:
Apple Podcasts will only work on macOS operating systems since Catalina. We do not support Android desktop apps at this time.
Listen on your device:RECOMMENDED
These links will only work if you're on the device you're listening to the podcasts on. We do not support Stitcher at this time.
---
John Dickerson for the Atlantic: "The GOP has no standards now"
Adela Suliman for The Washington Post: "Marjorie Taylor Greene Says Nancy Pelosi Runs 'Gazpacho Police,' Causing Collective Spit"
Brett Samuels for the Hill: 'Pence Breaks With Trump: 'I Had No Right to Cancel Election'"
Here's this week's chatter:
Emily: Sam Levine for the Guardian: "Black woman sentenced to six years in prison for voting error"
John: "John Grisham reads Soggy Sweat's whiskey speech"
David: Oliver Holmes for the Guardian: "Putin's massive table: Powerplay or paranoia?"
Cason Reily listener chatter: BBC: "Who is Sue Gray? »
For this week's Slate Plus bonus segment, Emily, John and David reflect on what qualifies something as a sport or a game.
Tweet us your questions and discussions @SlateGabfest or email us at [email protected] (Posts may be cited by name unless otherwise specified by the author.)
Podcast production by Jocelyn Frank.
Research and performance notes by Bridgette Dunlap.